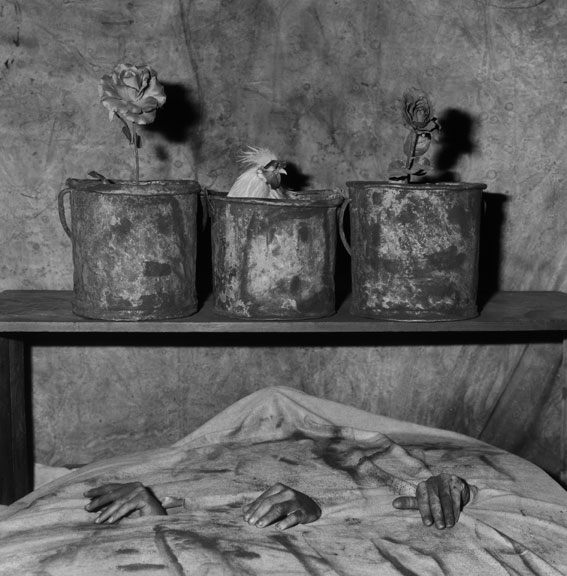 Side A: Raionbashi "Der Strick"
Composed, recorded and mixed by Daniel Löwenbrück between 2009 and  2011. With thanks to Dave Phillips for his strings, Doreen Kutzke for her voice and to the people and animals recorded without their knowledge.
Audio clip: Adobe Flash Player (version 9 or above) is required to play this audio clip. Download the latest version here. You also need to have JavaScript enabled in your browser.
Raionbashi is the solo project of Daniel Löwenbrück, head of the Tochnit-Aleph
label and Rumpsti Pumsti record shop. The Method Man of Aktionism.
http://www.tochnit-aleph.com/raionbashi/
Side B: Stefan Roigk / Daniela Fromberg  "Blowing up the master's workshop"
It's worth resting with the beasts to prepare ballon mails for bats, urutaúes, sirens, leopard seals, humpback whales, monarch butterflies (poor bb), blowflies and maggots. Inspired by max ernst's collage das schlafzimmer des meisters – la chambre à coucher de max ernst,  1920.
Audio clip: Adobe Flash Player (version 9 or above) is required to play this audio clip. Download the latest version here. You also need to have JavaScript enabled in your browser.
Roigk and Fromberg are two multi-disciplinary artists living in Berlin.
http://www.stefan-roigk.com/
http://www.daniela-fromberg.com/
Numbered edition of 280 copies. Black vinyl (cut at Dubplates  & Mastering,
Berlin), printed cover with a photo from Roger Ballen. 15 euro + shipping
costs.