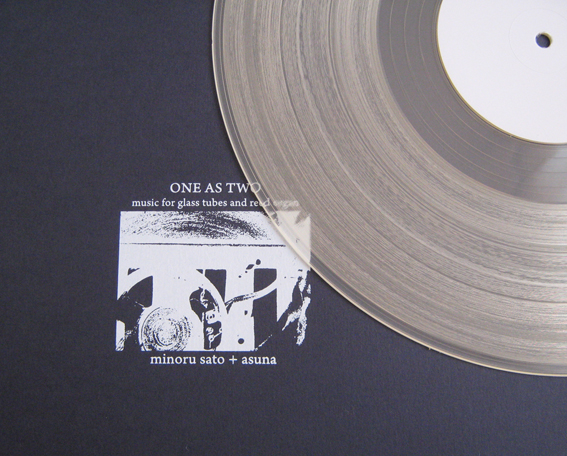 "One as Two (Compositions for resonances of reed organ and chambers)" is the second collaborative work of Minoru Sato (-m/s, SASW) and Asuna, after their first studio cd ("Texture in glass tubes and reed organ" released on Spekk, Japan).
Asuna : prepared organ as motor and solid vibration of reed
Minoru Sato : NRF amplification by two glass tubes and 2 glass vases
NRF is the Natural Resonant Frequency of a defined space. In this case the expression refers to the resonant frequencies of the glass vessels used to amplify and filter, trough the use of small speakers and miniature microphones, the organ sounds.
"We have been performing "music" focusing on the materialistic nature (physical phenomena) of sounds by utilizing the reed organ and glass tubes. Our music is composed and constructed in such a way that however the phenomena we use reacts with the circumstances of the space – the situation of the site including the audience – our live performance involves and uses these conditions".
More information can be found here: http://www.ms-wrk.com/
Total Lenght 40 minutes.
Silkscreened jacket on heavy blue cardboard, transparent vinyl.
Numbered edition of 200 copies. SOLD OUT.
two extracts from the lp :
Audio clip: Adobe Flash Player (version 9 or above) is required to play this audio clip. Download the latest version here. You also need to have JavaScript enabled in your browser.
Audio clip: Adobe Flash Player (version 9 or above) is required to play this audio clip. Download the latest version here. You also need to have JavaScript enabled in your browser.