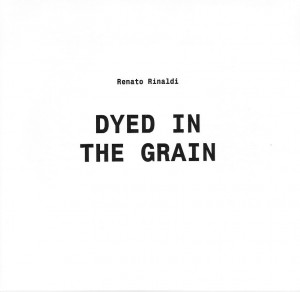 All sounds processed from recordings made during the manufacture of ceramic tiles: from prime material collection to the hammering of the final test tile.
Recorded, processed and composed in August 2005; re-arranged in May 2009. A single 19-minute piece, mixed by Renato Rinaldi  and Giuseppe Ielasi.
Renato Rinaldi studied drama, composition and electronic music. After a number of years working as an actor he began composing music for theatre, radio dramas and video installations. He has produced several radio plays, documentaries and reportages for the Italian national broadcasting radio (RAI). In music, his work focuses primarily on the relationship between sound and environment.
Letterpressed sleeve printed by Ben Owen / Middle Press. Edition of 200 copies,
co-released with Entr'acte (Uk). SOLD OUT.
Audio clip: Adobe Flash Player (version 9 or above) is required to play this audio clip. Download the latest version here. You also need to have JavaScript enabled in your browser.