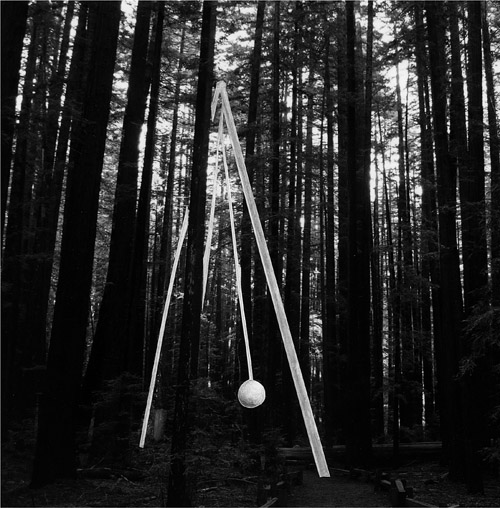 Coppice (Noé Cuéllar & Joseph Kramer) is a Chicago-based duet of bellows and electronics.  Since its formation in 2009 they have produced original compositions for stage, fixed media, and performed installation settings, with a focus on adhering textural attenuation, processed gradation, the contours of instrumentation, and their multiple aspect highlights.Their variable instrumentation departs from bellows and reed instruments (accordion, pump organ, shruti box, harmonica), custom electronics (reproduction, transmission, spatialization, interference and gentle feedback), and multi-channel systems adapted in ways responsive to location, audience flow, and aural perspectives.
The sound of the 7″ is sourced entirely from the dismembered and displaced performance of shruti box and tape loops.  Its lineage can be traced back to the fixed media work for dance, FOURBOUND (2010), choreographed by Rachel Damon, and through its close relationship with the Coppice multichannel performance/installation work Copse (2010).  In fact, Side A shares its title, The Pleasance, with the first movement of Copse. This new record, like those works, is focused on the creation and designation of spaces. It is also concerned, like those works, with the bodies that exist within the sound field.
Where this recording departs from those previous pieces is that it presents a fixed perspective to a listener, and offers no choreography for present bodies.  The listener is not able to negotiate a multisourced sound environment, but is instead repositioned as a point existing within a stereo projection that they share responsibility for creating (the listener turns the recording on, sets the volume, places the speakers, selects a point from which to listen, etc.).  Fixed and flattened, the work becomes a private question of where an individual finds his or her footing within the space that they have had a had in creating.

Composed and recorded in Chicago, 2010. Artwork : Holly Murkerson.
More information on Coppice here.
7″ record, black vinyl, printed labels and jacket. numbered edition of 200 copies. 7 euro + shipping costs.
Audio clip: Adobe Flash Player (version 9 or above) is required to play this audio clip. Download the latest version here. You also need to have JavaScript enabled in your browser.